About Me
Welcome to Silhouette Standard Schnauzers
About Me
About Standard Schnauzers
Who has puppies or Older dogs that needs a home
Dog Shows Coming Up
Puppy Pictures
Girl Puppy Pictures
Boy Puppy Pictures
AKC/CKC CH. Centara Swingin' On A Star
Star's 16th birthday
Mystique
Merlin: Adopted
CH. Silhouette Harry Houdini,CGC,CGCU, THDA, TKN
Harry Houdini's therapy visits
CH. Silhouette Fortune Teller,THDA, CGCA, RN,TKN
Sabrina's Therapy visits
More pictures of Sabrina
Westminster Picture 2016
BISS Gold GCH. Silhouette's Dirty Harry
BISS Gold GCH. Silhouette's Dirty Harry
More Pictures of Dirty Harry
Silhouette's Scarlett O'Hara
AKC/CAN/INT'L CH. Silhouette's Work of Art
Arthur (AKC/CAN/INT'L CH. Silhouette's Work of Art), CGC,CGCA,TKN,RN,FDC,ATT
More Show Pictures of Arthur
Arthur's photos
Bonnie(Mini Schnauzer)CH,THDA,CGCA,CGCU,ATT,FDC
Dog Show Results 2012/2013/2014/2015/2016/2017/2019
Northwest Groom Show 2016-Tacoma WA
Favorite Links
Guest Book
Contact
What's New
My History
I have owned Miniature Schnauzers since my childhood and I am a member of the Standard Schnauzer Club of America. I was active in the local 4-H club for four years and showed at county and state competitions in handling and obedience competitions. When I met Walt (my husband) he did not know what a schnauzer looked like but soon developed a love for the breed. Later, we married and moved to Poulsbo, Washington with five acres and wanted a larger breed but still a schnauzer and decided on the Standard Schnauzer .
We got our first Standard Schnauzer in 1999 - Blue Mountain Sasquatch, CD. I put a Companion Dog Title on Schultz and put him through a couple of agility classes. In 2000, we acquired our first show Standard Schnauzer through Linda Dobbie. American/Canadian CH. Centara Swinging On A Star. I showed and handled her through both her championships. In 2005, we bred Star to Kima (Ch.Pepper Tree Yakima Jack, AX OAJ) and had a wonderful litter. We kept 2 dogs (Merlin and Harry) and a bitch (Sabrina) from the litter.
I showed Merlin (CH. Silhouette Magical Merlin) in Bred-By classes to his championship, won a few group placings in the Bred By Working Group and showed Merlin at the Eukanuba Invitationals in 2008. I have finished showing Sabrina (CH. Silhouette Fortune Teller)and she is invited to the 2012 Eukanuba Invitatiionals. Harry (CH. Silhouette Harry Houdini) is finished and will be specialed in 2012. Below is a picture of Merlin and me at Eukanuba Invitationals.
Silhouette Standard Schnauzers started in February 2006 and still going strong.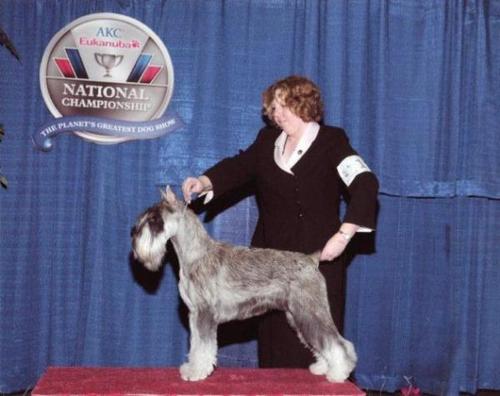 Member of the Standard Schnauzer Club of America
My Contact Information
Home Phone 360-598-3619