Star-06-2000 - 03-2017
Welcome to Silhouette Standard Schnauzers
About Me
About Standard Schnauzers
Who has puppies or Older dogs that needs a home
Dog Shows Coming Up
Puppy Pictures
Girl Puppy Pictures
Boy Puppy Pictures
AKC/CKC CH. Centara Swingin' On A Star
Star's 16th birthday
Mystique
Merlin: Adopted
CH. Silhouette Harry Houdini,CGC,CGCU, THDA, TKN
Harry Houdini's therapy visits
CH. Silhouette Fortune Teller,THDA, CGCA, RN,TKN
Sabrina's Therapy visits
More pictures of Sabrina
Westminster Picture 2016
BISS Gold GCH. Silhouette's Dirty Harry
BISS Gold GCH. Silhouette's Dirty Harry
More Pictures of Dirty Harry
Silhouette's Scarlett O'Hara
AKC/CAN/INT'L CH. Silhouette's Work of Art
Arthur (AKC/CAN/INT'L CH. Silhouette's Work of Art), CGC,CGCA,TKN,RN,FDC,ATT
More Show Pictures of Arthur
Arthur's photos
Bonnie(Mini Schnauzer)CH,THDA,CGCA,CGCU,ATT,FDC
Dog Show Results 2012/2013/2014/2015/2016/2017/2019
Northwest Groom Show 2016-Tacoma WA
Favorite Links
Guest Book
Contact
What's New
AM/CAN CH. Centara Swingin' On A Star passed away 03/09/17 RIP Starbaby 2000-2017
Star was my first Standard Schnauzer conformation show dog I ever had. She was a joy and a wonderful experience of a show dog to have in the ring. We traveled to many dog shows on the west coast and learned alot from each other. She is a fabulous female with great show attitude and a nice head piece. She has a nice front and rear. She also has a wonderful gait.
I would like to thank Linda Dobbie from Centara Standard Schnauzers for convincing me to have a show dog (Star) from her. If it was not for her, I would not be where I am today with Silhouette Standard Schnauzers. It has changed my life forever.
Star is 16 years old today. June 24, 2016 I can't believe she is that old. She is a wonderful dog and companion. We love her!! HAPPY BIRTHDAY STAR BABY!!!


HIPS-Good-SC-3188G45F-PI ELBOWS-Normal SC-EL46F82-PI CERF-Normal checked 01,02,03,05.06
Owned and Handled by Sara Reas Rawls Best of Breed with Star in 11/2004 Monroe,WA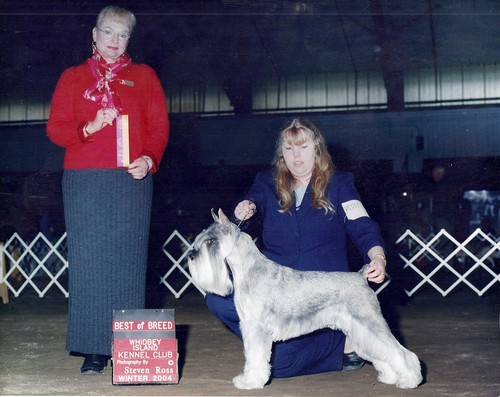 Star and Sara at Ventura. CA with Best Opposite in 7/2004