GCHG. Silhouette's Dirty Harry (more pictures)
Welcome to Silhouette Standard Schnauzers
About Me
About Standard Schnauzers
Who has puppies or Older dogs that needs a home
Dog Shows Coming Up
Puppy Pictures
Girl Puppy Pictures
Boy Puppy Pictures
AKC/CKC CH. Centara Swingin' On A Star
Star's 16th birthday
Mystique
Merlin: Adopted
CH. Silhouette Harry Houdini,CGC,CGCU, THDA, TKN
Harry Houdini's therapy visits
CH. Silhouette Fortune Teller,THDA, CGCA, RN,TKN
Sabrina's Therapy visits
More pictures of Sabrina
Westminster Picture 2016
BISS Gold GCH. Silhouette's Dirty Harry
BISS Gold GCH. Silhouette's Dirty Harry
More Pictures of Dirty Harry
Silhouette's Scarlett O'Hara
AKC/CAN/INT'L CH. Silhouette's Work of Art
Arthur (AKC/CAN/INT'L CH. Silhouette's Work of Art), CGC,CGCA,TKN,RN,FDC,ATT, FDB
More Show Pictures of Arthur
Arthur's photos
Bonnie(Mini Schnauzer)CH,THDX,CGCA,CGCU,ATT,FDC
Dog Show Results 2012/2013/2014/2015/2016/2017/2019
Northwest Groom Show 2016-Tacoma WA
Favorite Links
Guest Book
Contact
What's New
BISS Silver GCH. Silhouette's Dirty Harry--Got Select at Westminster Kennel Club on 2-16-16 with Shawn Imler as the handler! Very Proud! Thank you Shawne and Sue Descano for letting this all happen!!!
Harry has a beautiful coat and a nice top line and neck. He has good stucture and glides in the ring and is fun to watch. He loves to show and barks at ringside to want to show. He has a great personality and loves everyone.
Harry and Carol Filer Handler with judge Francine W. Schwartz. Best of Breed and 5 GCH points to finish his Grand Championship at Old Dominion Kennel Club of Northern Virginia on 4/20/2013. Thank you Francine Schwartz and Carol!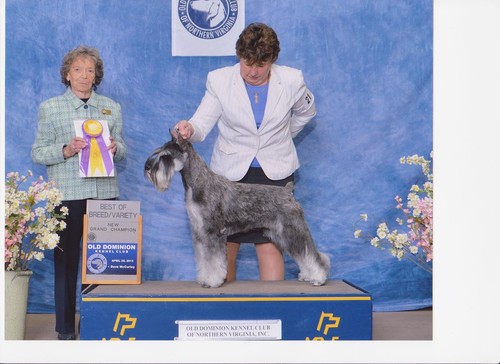 Harry and Carol at Deleware with Best of Breed with judge Beth G. Speich on 3/16/2013. Thank you Beth Speich and Carol!