Sabrina as a Therapy Dog
Welcome to Silhouette Standard Schnauzers
About Me
About Standard Schnauzers
Who has puppies or Older dogs that needs a home
Dog Shows Coming Up
Puppy Pictures
Girl Puppy Pictures
Boy Puppy Pictures
AKC/CKC CH. Centara Swingin' On A Star
Star's 16th birthday
Mystique
Merlin: Adopted
CH. Silhouette Harry Houdini,CGC,CGCU, THDA, TKN
Harry Houdini's therapy visits
CH. Silhouette Fortune Teller,THDA, CGCA, RN,TKN
Sabrina's Therapy visits
More pictures of Sabrina
Westminster Picture 2016
BISS Gold GCH. Silhouette's Dirty Harry
BISS Gold GCH. Silhouette's Dirty Harry
More Pictures of Dirty Harry
Silhouette's Scarlett O'Hara
AKC/CAN/INT'L CH. Silhouette's Work of Art
Arthur (AKC/CAN/INT'L CH. Silhouette's Work of Art), CGC,CGCA,TKN,RN,FDC,ATT, FDB
More Show Pictures of Arthur
Arthur's photos
Bonnie(Mini Schnauzer)CH,THDX,CGCA,CGCU,ATT,FDC
Dog Show Results 2012/2013/2014/2015/2016/2017/2019
Northwest Groom Show 2016-Tacoma WA
Favorite Links
Guest Book
Contact
What's New
Sabrina's therapy visits!!
Sabrina and I love doing therapy visits to health facilities! We love making people happy and making their day! It is worth it when we can make a smile on somone's face! We have 50 visits in and working on 100.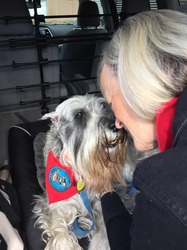 Sabrina saying Hello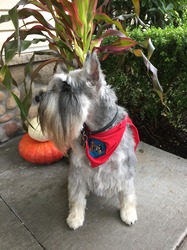 Sabrina outside of a facility!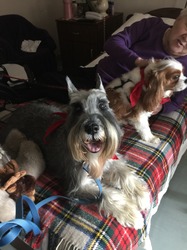 Sabrina with another therapy dog visiting!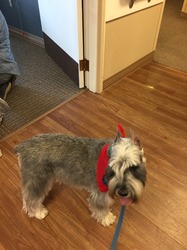 Sabrina finishing a visit outside a room!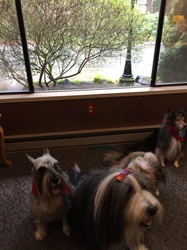 Sabrina and Harry after our visit at a facility!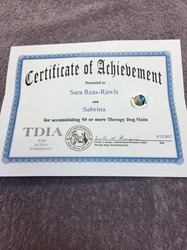 Sabrina certificate of TDIA for Therapy work!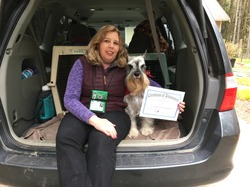 Sabrina received her AKC Therapy Dog Title now she has her THD.