Bonnie--Mini Schnauzer CH.CGCA,CGCU, TKI,THDA,ATT,FDC
Welcome to Silhouette Standard Schnauzers
About Me
About Standard Schnauzers
Who has puppies or Older dogs that needs a home
Dog Shows Coming Up
Puppy Pictures
Girl Puppy Pictures
Boy Puppy Pictures
AKC/CKC CH. Centara Swingin' On A Star
Star's 16th birthday
Mystique
Merlin: Adopted
CH. Silhouette Harry Houdini,CGC,CGCU, THDA, TKN
Harry Houdini's therapy visits
CH. Silhouette Fortune Teller,THDA, CGCA, RN,TKN
Sabrina's Therapy visits
More pictures of Sabrina
Westminster Picture 2016
BISS Gold GCH. Silhouette's Dirty Harry
BISS Gold GCH. Silhouette's Dirty Harry
More Pictures of Dirty Harry
Silhouette's Scarlett O'Hara
AKC/CAN/INT'L CH. Silhouette's Work of Art
Arthur (AKC/CAN/INT'L CH. Silhouette's Work of Art), CGC,CGCA,TKN,RN,FDC,ATT
More Show Pictures of Arthur
Arthur's photos
Bonnie(Mini Schnauzer)CH,THDA,CGCA,CGCU,ATT,FDC
Dog Show Results 2012/2013/2014/2015/2016/2017/2019
Northwest Groom Show 2016-Tacoma WA
Favorite Links
Guest Book
Contact
What's New
Bonnie--CH Emerald Isle's She Is A Bonnie Banshee CGCA,CGCU,THDA,TKI, ATT, FDC
She is a Miniature Schnauzer and is 13 years old. She is a retired AKC Champion CH. Emerald Isle's She Is A Bonnie Banshee,CGCA, CGCU,THDA,TKI,ATT,FDC Salt and Pepper Born October 18, 2008
I have had Bonnie for 10 months and she is a wonderful dog. She loves being a Therapy dog and loves to go on long walk. She also loves to go to dog shows and watch the dogs show.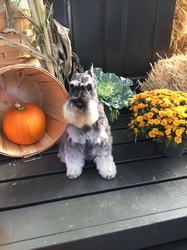 I got Bonnies TDI therapy certification 7/22/18. She also got her CGC title too.
Bonnie posing at a health facility!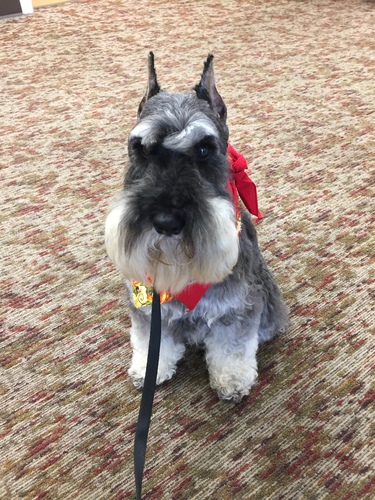 Bonnie now has her TDIA Therapy Dog International title for 50 visits now 02/24/19
Bonnie received her AKC THDA (Therapy Dog Advance Title) 09/11/19 100 visits

Bonnie received her Trick Intermediate title 5/24/19 and her Canine Good Citizen Advance and Canine Good Citizen Urban 7/19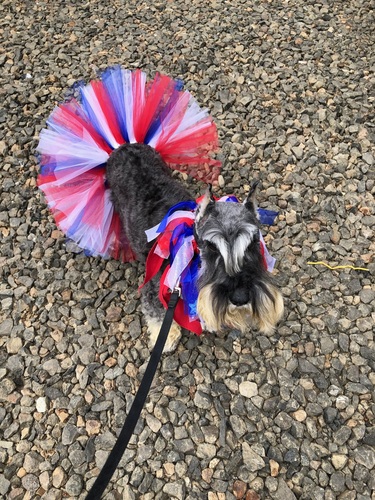 Bonnie now has 150 visits in for Therapy Dog International and AKC. She has her Therapy Dog Advance Title from AKC and her TDIAOV Award and pin from TDI.

03/15/20

Bonnie at a TDI parade in July 2020
Bonnie back at visiting at assistant living facilities 06-01-2021
Bonnie received her ATT(AKC Temperment Test and FDC Farm Dog Certificate titles 12/21