CH Silhouette Fortune Teller, THD,CGCA,RN,TKN-Sabrina passed away RIP. 10/2006-12/2017
Welcome to Silhouette Standard Schnauzers
About Me
About Standard Schnauzers
Who has puppies or Older dogs that needs a home
Dog Shows Coming Up
Puppy Pictures
Girl Puppy Pictures
Boy Puppy Pictures
AKC/CKC CH. Centara Swingin' On A Star
Star's 16th birthday
Mystique
Merlin: Adopted
CH. Silhouette Harry Houdini,CGC,CGCU, THDA, TKN
Harry Houdini's therapy visits
CH. Silhouette Fortune Teller,THDA, CGCA, RN,TKN
Sabrina's Therapy visits
More pictures of Sabrina
Westminster Picture 2016
BISS Gold GCH. Silhouette's Dirty Harry
BISS Gold GCH. Silhouette's Dirty Harry
More Pictures of Dirty Harry
Silhouette's Scarlett O'Hara
AKC/CAN/INT'L CH. Silhouette's Work of Art
Arthur (AKC/CAN/INT'L CH. Silhouette's Work of Art), CGC,CGCA,TKN,RN,FDC,ATT, FDB
More Show Pictures of Arthur
Arthur's photos
Bonnie(Mini Schnauzer)CH,THDX,CGCA,CGCU,ATT,FDC
Dog Show Results 2012/2013/2014/2015/2016/2017/2019
Northwest Groom Show 2016-Tacoma WA
Favorite Links
Guest Book
Contact
What's New
"Sabrina" CH. Silhouette Fortune Teller, THD, CGCA, RN,TKN (Therapy Dog ), (Canine Good Citizen Advance)and (Rally Novice)and(Trick Novice) Sabrina passed away 12/2017 RIP my beautiful girl!
Sabrina has a nice head piece and nice neck, nice front and rear. She has a showy attitude and has a great gait. I have gotten 1st in the Bred-By Working Group at the Tacoma Kennel Club dog show. We are invited to the Eukanuba Invitationals in 2011 and 2012. She had her 1st litter this fall 2011 and is a very good mother.
Sabrina has her 1st son as a AKC Champion Silhouette's Dirty Harry as of 10-28-2012. We are very proud! He also has his Grand Championship as of 04/2013. He got a 4th Group placement in 2014.
Sabrina's daughter Silhouette's Scarlett O'Hara is making her way towards her Canadian Championship amd AKC Championship. Her 2nd son AKC/CKC/INT CH. Silhouette's Work Of Art is also a AKC Champion as of 11/

08/14.
Sabrina was in her first handstrip groom show on 4/11/14 at the Northwest Groom Show in Tacoma, Wa.
Sabrina is now 10 years old and a certified therapy dog.


She has done 5 visits to Martha and Mary Health and Rehab facility and 5 visits to Bremerton Health and Rehab and 3 visits to Bainbridge Island Health and Rehab so far. Loving her visits and making a difference with ill people. She received her AKC Therapy Dog Novice title and her CGC title 09-8-16. Very proud!!
Sabrina was used at a groom workshop in Snohomish, Washington with Tasha Smith on 3/6/16
Sabrina will be used at the Northwest Groom Show for groom competition in Tacoma, WA on 04/22/16 with Anne Francis a well known dog groomer competitor. Anne Francis is on the Groom Team USA!

Update: Sabrina now has her Canine Good Citizen Advance and her Rally Novice title now 07/10/17
Sabrina has her Trick Novice title 10-06-17
Sabrina has her Achiever Dog Certificate 12-15-17

Bred, Owner, Handled by Sara Reas-Rawls, Albany, OR on 02/2011 judge Pat Hastings finished her AKC championship with Winners and Best Opposite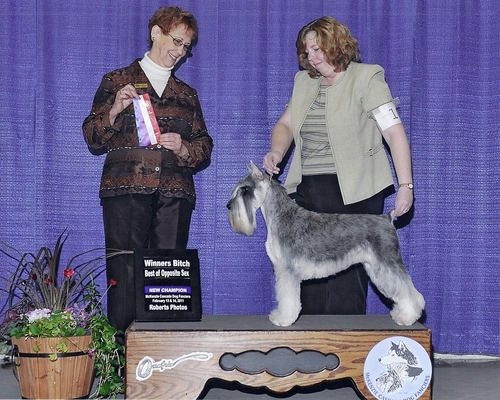 Hips-Good SC-3790G41F-VPI Thyroid-Normal SC-TH60/56F-VPI Normal CERF-SC-818 checked 08,11 CHIC#69627 Dilated Cardiomyopathy--Normal SC-DCM130/96F-VPI