AKC /CAN/ INT'L CH. Silhouette's Work of Art, CGCA,TKN,RN,ATT,FDC
Welcome to Silhouette Standard Schnauzers
About Me
About Standard Schnauzers
Who has puppies or Older dogs that needs a home
Dog Shows Coming Up
Puppy Pictures
Girl Puppy Pictures
Boy Puppy Pictures
AKC/CKC CH. Centara Swingin' On A Star
Star's 16th birthday
Mystique
Merlin: Adopted
CH. Silhouette Harry Houdini,CGC,CGCU, THDA, TKN
Harry Houdini's therapy visits
CH. Silhouette Fortune Teller,THDA, CGCA, RN,TKN
Sabrina's Therapy visits
More pictures of Sabrina
Westminster Picture 2016
BISS Gold GCH. Silhouette's Dirty Harry
BISS Gold GCH. Silhouette's Dirty Harry
More Pictures of Dirty Harry
Silhouette's Scarlett O'Hara
AKC/CAN/INT'L CH. Silhouette's Work of Art
Arthur (AKC/CAN/INT'L CH. Silhouette's Work of Art), CGC,CGCA,TKN,RN,FDC,ATT, FDB
More Show Pictures of Arthur
Arthur's photos
Bonnie(Mini Schnauzer)CH,THDX,CGCA,CGCU,ATT,FDC
Dog Show Results 2012/2013/2014/2015/2016/2017/2019
Northwest Groom Show 2016-Tacoma WA
Favorite Links
Guest Book
Contact
What's New
Arthur is now a AKC Champion// 10 points and has his Canadian Championship/2 certificates towards his International Championship. One more and he is done. Arthur is also #9 in breed in Canada as of October 2015
Arthur is now a AKC Champion 15 points with 3 majors Currently has 8 points and 1 major Grand Champion points .We will be working on his Grand Champion points in 2017.
CERF-SC-378974 date 2013 Normal
SC-DCM20/27M-PI date 2014 DCM- Carrier
Hips-SC-4399G40M-VPI--Good
Elbows-SC-EL202M40-VPI--Normal
Arthur won 3rd in Working Group Bred By at Puyallup,WA 01/2013
Arthur is a up and coming dog that will make you want to watch him show and glide in the ring. He has everything you want in a show dog.
Arthur has his Canadian Championship 11/23/15
Arthur now has 12 points including one major towards his Grand Championship now! 01/15/17
Arthur was in his first Hand strip Intermediate divison groom show at the Pacific Northwest Groom show in Tacoma, WA 04/15 We took 3rd place for our first time! Not bad!
He will be borrowed by Cat Opson one of a well known dog groomer compeitior in the USA. She will use him at the Pacific Northwest Groom show on 4/22/16 in Tacoma, WA Cat Opson is on the Groom Team USA this year!

Cat Opson has asked to use Arthur again this year in the Pacific Northwest Groom Show in April 2017. Of course I said sure!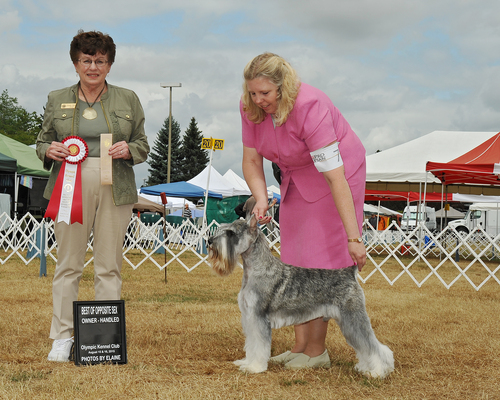 Arthur won Best Opposite Sex and Owner Handler at Olympic Kennel Club on August 15th, 2015
Arthur is a stunning dog. He has excellent movement and flows in the ring. He has a great topline and carries his tail nicely. He is proud when he gaits in the ring. He has a nice neck and head and a realy nice wiry coat.