CH. Silhouette Harry Houdini
CH. Silhouette Harry Houdini won 4th in the Working Group in the Owner Handler Competition on 9-21-14. Thank you group judge Mrs. Jeannette McGinnis you made our day!!
Hips:Good/ SC-3932G54M-VPI Elbows:Normal/ SC-EL102M54-VPI CERF: Normal/ SC-881/Checked 09,11 CHIC# 78716 Dilated Cardiomyopathy/SC-DCM651/104M-VPI**Normal**
We are proud of Harry. He finished his championship in September 2010 by winning Winners and Best of Winners in the Open Male Class with a major.Harry has a excellent rotating harsh coat, nice movement, great topline, and is compact. Harry is at stud to approved bitches. Harry is now 10 years old!
Harry is going to be used in the Wired Hair breed competition in Tacoma at the Northwest Groom show in April!!! Cat Opson will be using him.
Bred, Owner, Handled by Sara Reas-Rawls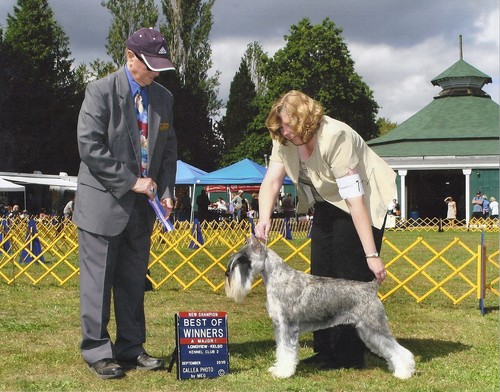 Ch. Silhouette Harry Houdini currently has 7 points and 1 major towards his Grand Championship.