CH. Silhouette Harry Houdini,CGC,CGCU,THDA, TKN
Welcome to Silhouette Standard Schnauzers
About Me
About Standard Schnauzers
Who has puppies??
Dog Shows Coming Up
Puppy Pictures
Girl Puppy Pictures
Boy Puppy Pictures
AKC/CKC CH. Centara Swingin' On A Star
Star's 16th birthday
Mystique
Merlin: Adopted
CH. Silhouette Harry Houdini,CGC,CGCU, THDA, TKN
Harry Houdini's therapy visits
CH. Silhouette Fortune Teller,THDA, CGCA, RN,TKN
Sabrina's Therapy visits
More pictures of Sabrina
Westminster Picture 2016
BISS Gold GCH. Silhouette's Dirty Harry
BISS Gold GCH. Silhouette's Dirty Harry
More Pictures of Dirty Harry
Silhouette's Scarlett O'Hara
AKC/CAN/INT'L CH. Silhouette's Work of Art
Arthur (AKC/CAN/INT'L CH. Silhouette's Work of Art), CGC, CGCA, TKN, RN
More Show Pictures of Arthur
Arthur's photos
Bonnie(Mini Schnauzer)
Dog Show Results 2012/2013/2014/2015/2016/2017/2019
Northwest Groom Show 2016-Tacoma WA
Favorite Links
Guest Book
Contact
What's New
CH. Silhouette Harry Houdini won 4th in the Working Group in the Owner Handler Competition on 9-21-14. Thank you group judge Mrs. Jeannette McGinnis you made our day!!
Hips:Good/ SC-3932G54M-VPI Elbows:Normal/ SC-EL102M54-VPI CERF: Normal/ SC-881/Checked 09,11 CHIC# 78716 Dilated Cardiomyopathy/SC-DCM651/104M-VPI**Normal**
We are proud of Harry. He finished his championship in September 2010 by winning Winners and Best of Winners in the Open Male Class with a major.Harry has a excellent rotating harsh coat, nice movement, great topline, and is compact.
Harry is now a certified Therapy Dog from Therapy Dog International. He was tested 11-12-17 and passed with flying colors. He has his AKC Canine Good Citizen title now.
Harry now has his Therapy Dog Novice title 2-28-18 Achiever Dog certificate 02-28-18
Harry made his 50th therapy visit and now has his Therapy Dog title 8-21-18 and his TDIA certificate and pin 8/1/18
HARRY is ofically retired from Therapy Dog International His is almost 15 years old now He made over 150 visits. He touched alot of peoples lives and made a difference.
Bred, Owner, Handled by Sara Reas-Rawls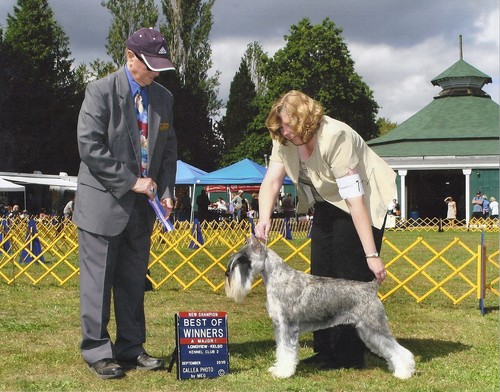 Ch. Silhouette Harry Houdini currently has 7 points and 1 major towards his Grand Championship.